These are my thrifting finds from Wednesday. Gosh, was that just yesterday? I got some more shoes to paint. I have one pair painted but I haven't sprayed them or taken pictures yet. I got this great hopper! It's a tennis ball hopper and when I first saw it I wanted it. I was so disappointed that it was $7 because that was more than I was willing to pay. I looked at the price again and realized it was $2, not $7! Yay. I have it in my laundry room where it will house extra toilet paper and then the iron fits just perfectly on top and it adds a little color to the laundry room. It matches my bottles. :D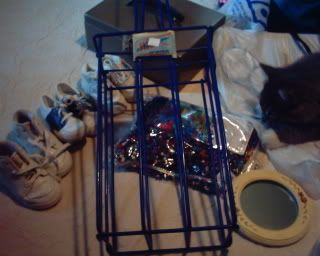 I also got a nice big bag of beads. Most of them are plastic, but they will make some cute bookmarks. I did find some glass beads in there, too and some nice earring findings that I didn't even know were there.
When I saw the mirror, I immediately thought of the mirrors that Debbie found at a yard sale. I was really admiring her little round mirrors so I was tickled pink when I found this little number. It's hanging in the bedroom. I may move it later but I needed something to replace the shelf that I just painted and moved to the dining room.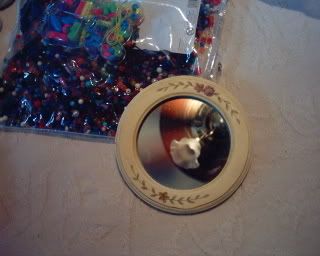 So, that's my haul. I couldn't take the yard any more so I went out before 8am and mowed this morning. I didn't get it all finished but at least it looks like I care. lol I also weedeated. Man. I couldn't use my arm for hours. It didn't hurt..it just didn't work. Weird feeling. I am grateful that it is now back in working condition.
You guys are so wonderful. I appreciated all the sweet comments. Now I need to go and get caught up on your blogs! See ya later.