Off and on for the past week or so, hubby and I have commented on men buying women mother's day presents. I keep telling him, I'm not his mother and there is no need. I'm not even the mother of his children so he certainly has no need to buy a Mother's Day present for me. His mother even asked him what he was getting me and his reply was "she's not MY mother."
So, imagine my surprise today when he came in and asked "would you rather have your Mother's Day present today or tomorrow?" I said "I thought we had this discussion...um...TODAY!" hehe
Isn't it beautiful? It's a box containing stationery.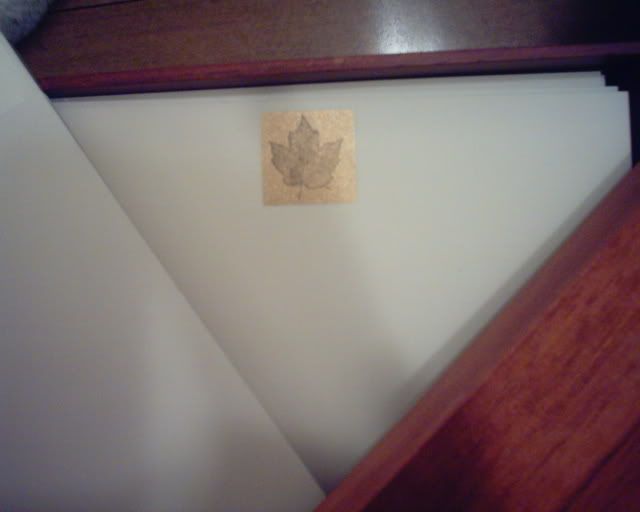 I absolutely love it. I dawdled in bed this morning reading
The Preacher's Daughter
and this beautiful box with its lovely papers seemed to fit right into the scenario I had created in my head for her.
I hugged him and told him that I didn't expect anything. He said that that is why he got me something and that I am a good mother so he wanted me to have something. (blissful sigh)
When he left this morning (to run errands, sneaky man) I was mowing. I was trying to beat the rain that is surely coming, but I managed to break the lawn mower not even half way through. lol I had finished mowing close to the house and was out in the field. I was mowing a bank when the blade seemed to have something caught in it. I turned it off and turned it over but there was nothing, so I went to pull the string to start it...and the string broke right off in my hand. I'm happy I at least got the mowing around the house finished. The rest will wait until early next week.
I don't know if you can see this clearly. It is difficult to get a picture of something black and transparent.
It's a teeny tiny french press. He bought this for me today, also, just for fun. He knows how much I adore our regular sized french press, occassionally preferring it over the automatic coffee maker. This one looks so cute sitting beside it.
And here
is a picture of Reagan "just because." Moments before she had her paw on the leaf that I was trying to photograph. hehe That's my beautiful, ornery Reagan. She wakes us in the morning by knocking things off the side tables. First she tries to be direct. She stands at the bed and paws my face. When that doesn't work, she runs across the bed quickly and back down a few times. Finally, she resorts to pulling things off the tables. It is especially helpful if I have a doily as she can pull it ever so slowly until everything on it crashes to the floor. What can I say? It works. We nearly always get up after that.
Well, I am going to tidy up a little since I haven't done a productive thing in the house today. Soon, I'll have to fix a meal for Tim and get him up for work, then I'll have to take Caleb to work...come home and take Tim to work...then I'll have the evening to stitch, trying to stay awake until I pick Caleb up at midnight. I'm sure I'll be off and on blogland in the interim. :)
Thanks for all the sweet comments. It was such a nice welcome when I signed on today.
Hopefully the next pic I post will be my completed Needleroll sampler. Only two rows to go, then I have to figure out how to make the needleroll. I printed out some instructions.
See y'all later. :)
After looking at the pics, I came back to say..I tried to post them a different way and they're too large. I'll fix it later. The bag you see next to the stationery box is a bag of oatmeal cookies. I baked them last night and I will refrain from telling you how many I've eaten. I also have a stack of books and my cross stitch there. When Tim goes to bed, I grab everything I might need from the bedroom so I won't wake him if I need it. lol I had laid it all on the dining room table while I was taking the picture. Alright...see y'all later...again.