My boys just stopped by with their Daddy to give me a Mother's Day present early. They are driving to WV to his niece's (and I still think of her as my niece, as well) graduation. She just got her Master's Degree in Speech Therapy. I'm so proud of her. I remember when she was just a little girl. She would come spend the week with us and she loved holding Nick. I don't think she would be able to accomplish that feat these days.
This is the card they brought me. It has a cat that looks like our Reagan. :)
And here is the gift!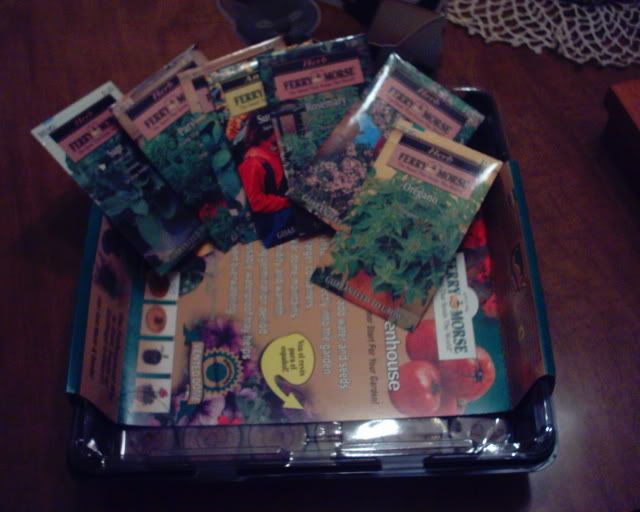 Packets of herbs. There's Oregano,Basil,Parsley, Sage, Rosemary and Thyme. (hehe, they made sure to get me those last four). There is also a packet of Sunflower Seeds. To go with it, they gave me the neatest little mini-greenhouse. It has little pellets that you put the seeds in and water, and once they begin growing you can transplant them right into your garden. I can't wait to get them all planted.
I like this Mother's Day thing. :) I'm pleased that the boys stopped today on their way out of town with their dad rather than waiting until they came back home on Sunday night. They'll also see their grandmother while they're there and hear the stories of her recent flight to Texas with her two sisters to visit her brother. Wow! I was amazed when Tom (my ex) just told me that. I guess you'd have to know her, but let me just say...miracles are alive and well. :)
I am going to try something I just saw on Allrecipes. I am going to cook chicken thighs in a can of fruit cocktail. Tim bought some the other day because his mother loves it so I'll have to pay her back a can. I just have to see how this tastes. I make cherry chicken with cherry pie filling mixed with orange juice. It's yummy..and a couple of weeks ago I made apricot chicken, so I know we like fruit+chicken recipes. I'll let ya know how it turns out.
OK..I'm a talker today, huh? LOL See y'all later. :)