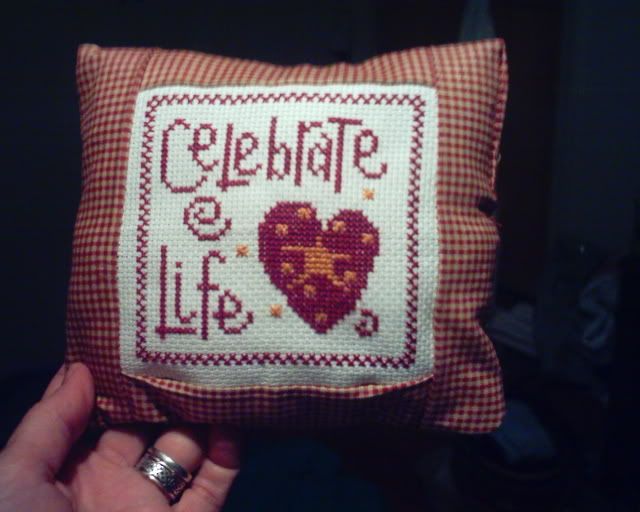 I decided to just hold it up to the light because I want to show a pic. Thank you so much
Katrina
for this chart. I enjoyed stitching it and I'm enjoying the finished tuck pillow. I have it in a basket beside my bed.
Just for fun, here's a pic of the center of my dining table. I went back to 2 P's in a Pod and got a crochet round. She sold the one I wanted to her Grandmother! The nerve, huh? :) So I bought a bit smaller white one. I immediately poured a jar of hot coffee and plopped the crochet thingey right in. It worked beautifully. The little bunny is a new addition. I got him at that yard sale. I meant to just sit him there for a minute and then move him to the table on the porch but he really likes it in here.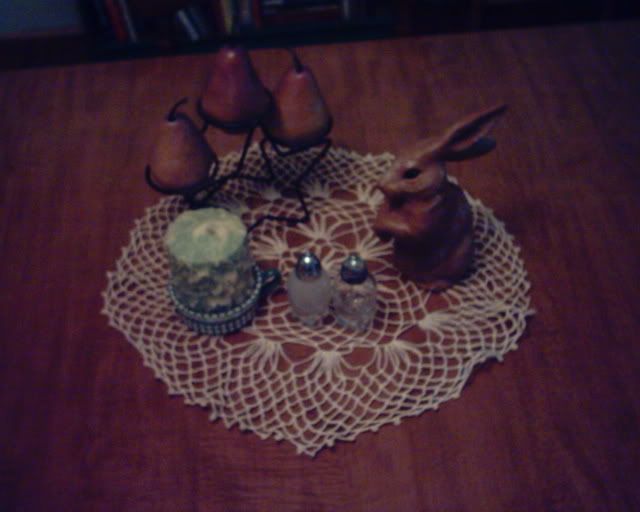 I washed my dishcloths today and used one already. I love it. I may have made it a bit big but I love the way it feels and cleans. I especially love that when you wring it out, it doesn't drip. I have a difficult time wringing out cloths. My hands don't grip well..and I have no problem wringing these out. Every little bit helps.
I kind of just puttered around today. I cleaned my bathroom mirror, as I do almost daily (someday I'll catch the mad toothbrusher). I cleaned the wood trim with Murphy's Oil soap. I keep going in and turning on the light just to see it shine. I worked on the boys' room and can leave their door open now. lol Cale wanted another batch of oatmeal cookies but I didn't have enough shortening left. It's on my store list now. I think Tim is going to get us some ice cream here shortly. :) Special treat. I'm glad I was out of shortening. LOL
Ohhh, I have a goofy question. Of those of you who wear aprons during the day...have you ever been on your way somewhere or actually arrived at your destination to find that you are still wearing your apron? I almost walked out of the house wearing mine today...and a couple of Sundays ago, I panicked and looked down to see if I was wearing one to church. I just wondered if anyone actually had worn one somewhere accidentally. I can't wait to hear it if you have.