I knew I would leave out a Christmas card. Joyce Ann, I am so sorry. I really did love getting this from you!
Isn't it festive and, most importantly, glittery. hehe
We recently bought some cheapo coffee (that was yummy) at Big Lots. I loved the vintage look of the can and for a while was putting whatever brand we bought into the can. Since then I've changed to a nice glass jar but I still like the can. Nick, my older son, is amazing at making stencils and spray painting designs. Today he surprised me by taking the can into his room and tracing the design, making a stencil and making this great canvas board of my coffee can. It looks just like it. I should have taken a pic of the can. Nick took this pic with his camera.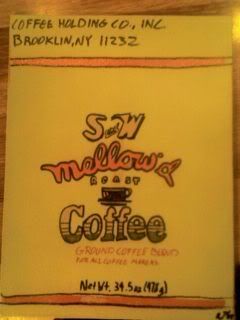 It's actually more of an olive green with orange lettering than shows in this photograph, but you can get the idea. I have it on my coffee shelf with my french presses and tea pot and tea tins. Maybe I'll take a pic after my birthday in March. lol
Ok..enough for today. Goodnight guys.