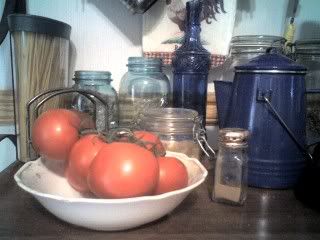 This is also my patriotic contribution. :) I stopped at an inside sale today and walked away with this beautiful, never been used, enamel coffee pot. I also got a topless black one. This one I got for hubby. He loved it! When I got home from the grocery store I threw the tomatoes in the bowl on the baker's rack and was suddenly struck by the contrast in color. The senses are a wonderful thing, aren't they? Driving home I was enjoying the smell of strawberries inside a very warm truck. It absolutely filled the cab...and then to top it off, I drove past someone mowing..mmmmmm....grass and strawberries.
My favorite laundry detergent (which I buy because it's cheap) smells like rain and today I found 2 little candles for sale that smell that way..although called Vintage gardenia) and also some cheapo hair conditioner that smells rainy too. :) Love it! I am so grateful for the sense of smell.
I'll tell you about my other finds later. I got some good ones! Right now I have to finish up cooking the potatoes and make potato salad to go with the hotdogs. Hubby's request. I also have his scrubs in the dryer. Nothing like waiting until the last minute! He goes to work in a few hours. tsk tsk.
Catch y'all later. :)