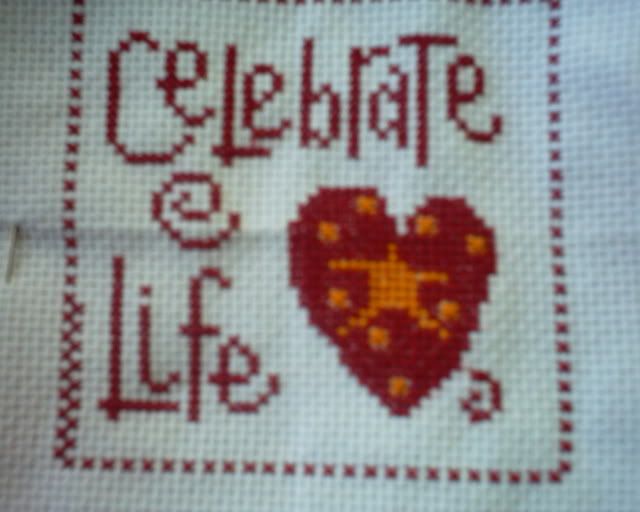 Almost finished with this one, then it will become a "prim" small, which is why I did it in these kind of weird colors. Pic is still a little blurry but better than the last one. :)
Ok...here are some pics of the outside of my home. I still have some work to do but it's coming along. If I had
before
pics, you'd think me a miracle worker.
This box was filled with weeds. The prior owner had done nothing with it for ages. On top of this a water line was dug before we moved in and not really refilled well, so mowing near it is difficult. I am awaiting my weed wacker to get in close to it as lifting a push mower while it is running is not the wisest course of action. I plan to plant tomatoes and some other things in the box this year. This is our third summer in this house but the first summer I'll have veggies in this box. (or could see the dirt in it, for that matter). It's so wonderful when you finally can see the "light", when all the stuff you have done the previous year shows up this year. The past couple of years I couldn't get to this box because I was too busy just trying to get the yard "maintainable." It really was a mess. This year it started out "maintainable." :)
This is a pic of a little corner beside the kitchen door in the back of the house. This is how most people enter. Last year this was a mess of things and weeds. It almost drove me mad, I think. I went to WV last summer to visit my mom and while I was gone, Tim put away all the junk, dug it all out and made it look great. We had some wild growing dayflowers that have little delicate blue blooms. They look nice against the blue paint. I expressed my wish that they went all around the house in the corner. My dear hubby dug through the existing plants and pulled out enough shoots to plant them all around the corner. They are starting to come back in and you can see the beginnings in the pic. It was such a nice surprise when I got back home last summer. I was so happy. Just recently my son and I moved the bench in there. The wreath I bought yesterday at Two P's in a Pod vintage store here in town. I sat it there until I could clean it but then liked it there, so I think that may be its home. I have lots more things to plant there. I think some herbs are in order.
(I keep looking at the pic and seeing things I want to explain. LOL The rakes and stuff aren't normally kept there...I was actually working on it when I decided to run in and get the camera.)
This is what you see as you start up the front steps of my home.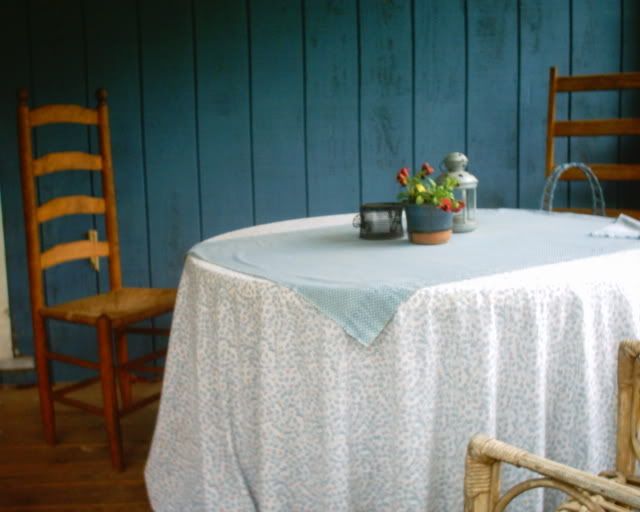 This is the table and chairs to the right facing the door.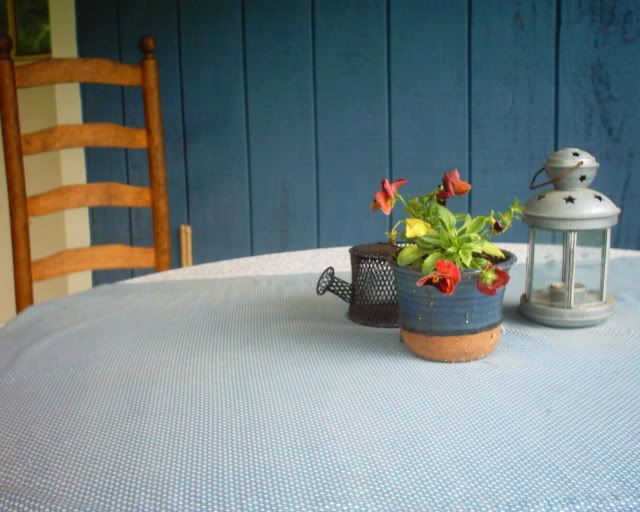 And this is me imagining you sitting across the table. Let's have coffee or tea or lemonade. :)
That's the view of my little blue farmhouse. As soon as there is enough money, it will no longer be blue. I'm thinking a very deep and dark cranberry...or perhaps beige. What color do you think would suit it?
It's a modest but happy little house. We have so much work to do but we have come
so
far.
Have a wonderful weekend.