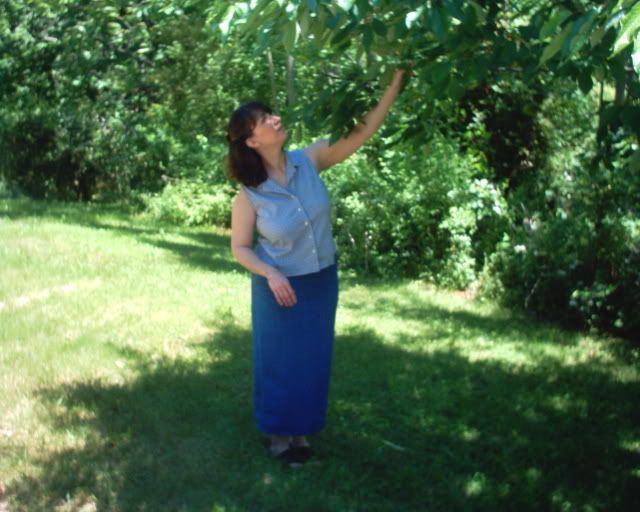 I was trying to show you the cherries on the tree. :) The boys ate all the ones off the lower limbs yesterday. They're not quite ripe, but almost.
I am back to my denim skirt and sandals today, with a sleevless top I got a few years ago. I got the top and another like it at Goody's and I just about wear them out in the summer, but they're hanging in there. :)
I have to admit, other than having to take pictures every day (lol) I've enjoyed wearing dresses for the past week. I am also learning, through these pictures, what looks ok on me and what doesn't. I'll be much more careful in the future with the way I choose skirts (and I probably WILL choose more skirts than dresses). I will always keep a pair or two of pants on hand, but I haven't felt as restricted in my dressses as I expected and after a week I don't feel like I'm being silly.
I also think it could be a real storage saver. I won't need as much room in the dresser and probably a money saver, too, as it's easier for me to find a skirt that fits properly than jeans; particularly at the thrift store. In some ways, it's much more comfortable to wear skirts, althought I would like to have some longer ones. I have a winter one that is perfect. It's long and it's cut with "v's" in it so that it appears to slim me. It's a woosher, too, which I love. hehe "woosh."
I skipped church today, or I might have had on a more colorful linen dress. I need to get back to church. I've missed two weeks now. I just needed a break. I sing in the choir, so if I don't feel like doing that now and then, I have to stay home because if I go to church and don't sing, everyone wants to know why I'm not in the choir loft and it aggravates the choir director. Sometimes I long to go to a different church where noone knows me, for just a Sunday or two, but I do love my church. I just have to skip now and then to avoid burnout.
This turned into a much longer post than I intended. Have a great rest of the day everyone.