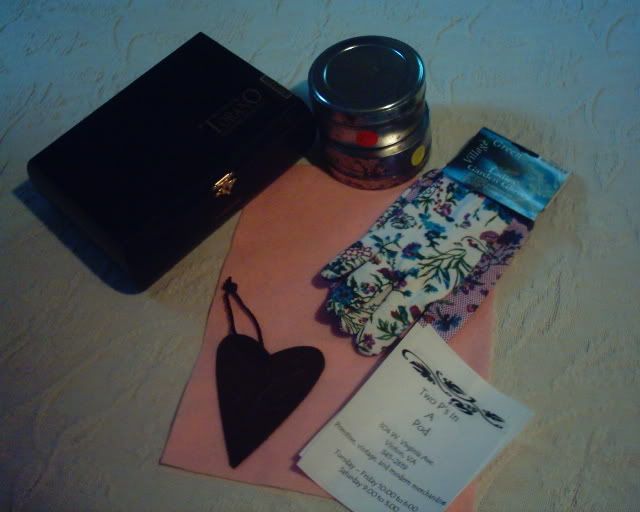 My hubby is so good to me. After lunch I asked if we could stop at this new little shop we keep passing. I was afraid it would close soon. I'm afraid independent little shops don't always last long around here, but she actually just opened so we can keep our fingers crossed. Anyway, it was as if I had clicked on one of the prim sites I love so much and found myself inside the website. It was wonderful. I am definitely going back. It smelled so good and there were so many vintage things. Now all the things I got there today were chosen by my hubby who kept picking things up and asking if I wanted them. lol He loves boxes and containers so I got that beautiful cigar box ($2) and those old Kodak film canisters are like altoid tins on steroids and they were $1 a piece. She had some really nice doilies and one big crochet round that would look pretty in the middle of my dining room table for $10. I may have to go back and get that. :) I wish she had a website just so you could see how many neat things she has. She plans to have one later.
The garden gloves I got at Big Lots for 99cents to replace the ones I got a couple of years ago and have a big hole from lots of fun in the dirt. I got the pink felt(20cents) at A.C. Moore (hubby just drove there, what could I DO?) and the little heart(99cents) came from there as well. I have put it on one of the pegs of the shelf that I hung over the computer desk.
On top of all that we had a wonderful lunch and lots of hand holding and arm-around-my-shouldering so I have been properly loved up this afternoon.
I think I'll go stitch now..or at least look at my floss and stuff. :)